Late-night television's award-winning news program featuring anchors Dan Harris, Juju Chang and Byron Pitts. For in-depth reporting on today's major news stories, to features, profiles, Nightline has the last word in live network news.
About Juju Chang
Juju Chang is an Emmy Award-winning co-anchor of ABC News' "Nightline." She also reports regularly for "Good Morning America" and "20/20."
Chang has been recognized for her in-depth personal narratives set against the backdrop of pressing national and international news. Her exclusive television interview with transgender solider Chelsea Manning, after seven years in prison, explored issues of national security leaks and LGBTQ military service. Her profile of former firefighter Pat Hardison – after a groundbreaking face transplant – highlighted the crisis of organ donation. Additionally, Chang anchored a special edition of "Nightline," "Consent on Campus," from Penn State which tackled complex issues surrounding sexual assault.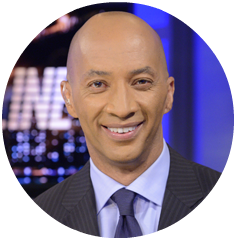 About Byron Pitts
Byron Pitts was named co-anchor of ABC News' "Nightline" in 2014. He has covered national news stories and in-depth features for the network, reporting across the news division, including "Good Morning America," "World News Tonight with David Muir," "This Week" and "20/20."
Pitts is a multiple Emmy award winning journalist and news veteran with over 20 years of experience known for his thoughtful storytelling, on-the-ground reporting and in-depth interviews. After less than 24 hours at ABC News, Pitts immediately joined the network's live special coverage of the Boston marathon bombing investigation. Since then, Pitts has gone on to report live from Baltimore, Dallas and Baton Rouge, La., during each cities' recent riots and protests. He also co-anchored a special edition of "Nightline" with Juju Chang from Los Angeles looking back on the city 25 years after the riots that broke out following the Rodney King verdict.